Candace and I headed into the Napa Valley last Friday and I was really looking forward to the appointments I had set up. The weather was spring-warm perfect, the traffic was light and I was looking forward to tasting some of Napa's Cabernet. First in line was the venerable Beaulieu Vineyard, located in Rutherford. The second appointment was set for 2pm at Whitehall Lane Winery and we were penciled in at Cuvaison Estate Wines in Calistoga for 4pm. It was going to be an afternoon full of (hopefully) good wine.
Beaulieu Vineyard:

I had only visited Beaulieu once before – way back in 1991. That was also my first visit to Napa Valley. What I really remember about the visit was that, back then, like many guys in their early 20's I was into the whole Seattle music scene and had the hair to match. It was halfway down my back. I know… I know, but hey – it was the early 90's. The point of mentioning this was that many of the wineries, upon seeing 4 long-haired musician-looking types headed their way, lived up to the much-feared wine snob stereotype – they treated us like crap. We were there to learn, sample and buy. They made that much less pleasant than it should have been.
Not Beaulieu. To this day, I have a soft spot for them because of the open and friendly way we were greeted and led through a wine sampling education. It was what a visit to a winery should be – FUN. They helped send me down the road to being the wine geek I am today. I don't remember the names of the nice folks from that visit, but will fondly remember our tasting with Robert last Friday.
We were greeted at the door with a sample of their 2007 Sauvignon Blanc and then made our way to their tasting bar and through their Maestro Collection and their Napa Valley Cabernets. Here's a list and quick rating of what we tasted:
2006 Maestro Petite Sirah ($32) – 3.5 – 4 stars
2005 Maestro Ensemble Red ($27) – 4 stars
2006 Maestro Zinfandel ($30) – 4 stars
(Unsure of the vintage) Tempranillo ($?) – 4 stars
The Cabernets:
2006 Rutherford Cabernet Sauvignon ($30) – 4 – 4.5 stars
2005 Reserve Maestro Cabernet No. 1 ($65) – 4.5 stars
2005 Reserve Maestro Cabernet No. 2 ($65) – 4.5 stars (my favourite of this flight)
2006 Reserve Maestro Cabernet No. 2 ($65) – 4.5 stars
After tasting these, Robert took us down to the members' tasting lounge and seated us in front of 4 glasses. Into those he poured:
2006 Reserve Carneros Pinot Noir ($45)
Beautiful colour with elegant ripe plum and cherry flavours.
4 stars
2003 Tapestry Reserve ($? – a classic blend of Cabernet Sauvignon, Merlot, Cabernet Franc, Petit Verdot and Malbec)
Balanced ripe fruit with firm yet silky mineral-laced tannins.
4 stars
2006 Tapestry Reserve ($60)
Bigger and earthier with a toasty edge to the dark cherry, black currant and dark chocolate flavours. Lots of tannin. Very tasty.
4.5 stars
2006 Beaulieu Vineyard Georges de Latour Private Reserve Cabernet Sauvignon ($115)
Really good. Lots of complexity. I got licorice, blackberry, black currant and vanilla spice on the nose. The flavours showed all that along with some coffee. The finish lasted minutes and was very firm. It has the structure to last for quite a while and will be best in a few years.
4.5 stars
Whitehall Lane Winery:

Next up was our 2pm appointment with Katie. This is a much smaller family operation compared to Beaulieu. It was bought by Tom Leonardini Sr. in 1993 and has seen extensive changes to the winery and the equipment since that time. The winery owns roughly 110 acres of vineyards in the Napa Valley including the Leonardini Vineyard in St. Helena and the Rutherford West Vineyard in, you guessed it, Rutherford.
Katie poured us a sample of their Chardonnay and led us out of the tasting room and into the winery. We watched them bottling their 2009 Sauvignon Blanc and had a quick tour of the member's lounge and a beautiful view of the surrounding vineyards from its deck. We then headed back to the tasting room to sample their wines. Here's what we tasted:
2008 Sauvignon Blanc, Napa Valley ($16)
Crisp acidity and nice citrus and melon fruit.
3.5 – 4 stars
2007 Chardonnay, Carneros ($28)
Again – nice and crisp with pear and citrus with some vanilla from the oak.
3.5 – 4 stars
2007 Pinot Noir, Carneros ($28)
Very light with nice red cherry and a bit of citrus and spice.
3.5 stars
2006 Merlot, Napa Valley ($28)
Black cherry and berry with a floral edge lead to nice vanilla and spice on the finish.
4 stars
2006 Cabernet Sauvignon, Napa Valley ($40)
Nice tannins edge the ripe blackberry and black currant fruit with earth and spice on the finish.
4 – 4.5 stars
2006 Reserve Cabernet Sauvignon, Napa Valley ($60)
This is a blend of fruit from both of their Cabernet vineyard sites in the Napa Valley. It really grabbed my taste buds with its ripe fruit and elegant balance. Flavours of black currant, dark cherry and berry led to a spicy vanilla-tinged finish from the oak. It's still quite young and will be best in a year or so (or more).
4.5 stars
2006 St. Helena Cabernet Sauvignon, Napa Valley ($60)
This was Candace's favourite wine of the day, with a really nice nose that hinted at the ripe fruit to come. A sip literally explodes in the mouth with jammy back currant and berry fruit, followed by a long and elegant finish with very firm tannins.
4.5 stars
2006 Rutherford Cabernet Sauvignon, Napa Valley ($60)
This wine was a very interesting counterpart to the St. Helena Cab. It tasted of the "Rutherford Dust" the area is known for. This also had really elegant fruit and a long spicy finish. I really liked this one.
4.5 stars
All in all, I'd have to say that I really liked the Cabs we tasted. As a matter of fact, I liked them enough that I took a few with me when we left.
Cuvaison Estate Wines: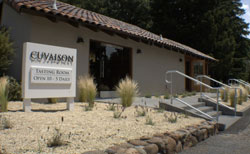 Last July when I was down in Napa and Sonoma for the Wine Blogger's Conference, a mix-up left Graham, Shea and I standing in Cuvaison's Calistoga parking lot wondering where the rest of the crew had disappeared to… only to realize that they had been bused down to Cuvaison's newer Carneros facility. Well, I made a mental note to return to the cozy Calistoga tasting room the next time I was in the area – so with an appointment set up by my friend Paul Watkin of Seacove Wines (who represent Cuvaison in BC), here we were.
After a recent re-vamp, the room was not only cozy, but modern as well. We settled in at one of the tables and Gabe brought around the samples and filled us in on the geographical and winemaking facts for each wine. I was really impressed with what he poured:
2007 S Block Chardonnay ($38)
This had really gorgeous fruit – orange peel, melon and pineapple that led to a balanced and crisp finish. Very tasty.
4.5 stars
2007 ATS Chardonnay ($54)
Wow. There was an explosion of flavour on the finish of this wine – crème brulée, nut, apple and mineral-edged lemon. Initially, a sip gave peach, and citrus flavours, but man… that finish. Very good.
4.5 stars
2008 Mariafield Pinot Noir ($32)
This Swiss clone gives bright purple cherry and cola flavours, with tonnes of spice and cherry cola on the finish.
4 – 4.5 stars
2007 Block F5 Pinot Noir ($45)
I really liked this wine. It was darker in colour than the Mariafield and struck me as having more going on. On the nose, there was blackberry and ripe red cherry. A sip gave me silky tannins that edged the black cherry cola, spice and floral flavours.
4.5 stars
2007 Zinfandel, Bald Mountain ($35)
This wine surprised me. I know Cuvaison is known for its Chardonnay and Pinot Noir, but they also turn out a tasty Zinfandel. It had nice dark plum and berry on the nose. Flavours of ripe plum, dark berry led out to bramble spice and cracked pepper on the finish.
4 – 4.5 stars
2007 Cabernet Sauvignon, Mount Veeder ($45)
Black pepper and ripe currant on the nose led to black pepper, currant and licorice flavours and a long finish.
4 – 4.5 stars
2006 Brandlin Cabernet Sauvignon, Mount Veeder ($85)
This really caught me off guard. Its' delicious! The nose showed purple berry, vanilla and licorice spice. The flavours were big and balanced – ripe dark berry, black currant, licorice and spice on the long, long finish. Wow.
4.5 stars
I have to say that this is the way to spend a day in Napa Valley. Make a few appointments and really spend the time going through each winery's wines. There are a lot of great wineries in the valley, so take some time to check them out.

8 comments